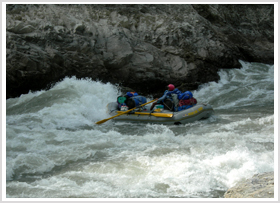 River Rafting in Nepal Not only is the river an exhilarating and exciting way to see Nepal, it is also an ideal means of reaching some of the most remote areas possible for travel in the Himalayas. State of the art white water self bailing rafts makes technically difficult rivers accessible to people with no experience. All that is required is a go for it attitude and a reasonable level of fitness. Once trained you, the crew, act as the engine as our professional guides become the steering wheels. Together, a solid team is formed to negotiate the wilder moments of these mighty rivers. In Nepal there are many rivers for rafting till now only few open fo rchallenging rafting -kayaking tours ,Bhotekoshi river, Marshangdi river, Kaligandaki river, tomor river, Sunkoshi river, The Karnali river and Budhi Gandaki are most famous and channelging white water rafting courses with full of raipd andpaddliing rivers in the world. The himalaya white rafting you wil have guides service with fullsupport kayaking and safety stuff.

Fully supported our river expeditions are thoroughly equipped to the last detail. Under The guidance of our professional expedition leaders, a superb team of guides and safety kayakers Trip2himalaya travel in considerable style.

If kayaking is your passion, we give you the opportunity to run these remote rivers with unloaded boats, giving you time and opportunity to do all the surfing you can handle. Just add sun, excellent food, and magnificent scenery and you have a trip of a life time.