Mountain Biking in Nepal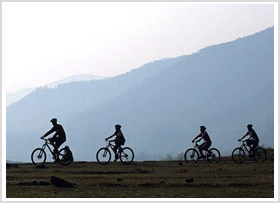 Cycling /Mountain Biking in Nepal has been gaining much popularity among the adventure enthusiasts from around the world over the past few years. Fascinating mountain villages, nomadic lands, high passes, rugged and tough mountain terrain, winding rivers, rice fields, temples and monasteries as a backdrop of majestic snowy Himalayan peaks Makes Mountain biking trail in Nepal an exceptionally inspiring play ground for riders with any level of experience and fitness.

We,Himalayan Glory Travelsare committed to the idea of creating extreme Mountain biking and Cycling tours in Nepal, Kathmandu Valley Mountain Biking ,Pokhara Valley and around Biking, Cycling in annapurna Trail, Mountain Biking in annapurna,Cycling -Biking Everest Base Camp , Biking Lhasa-Kathmandu and other adventure mountain bike -cucling tours for the experienced bikers and at the same time we offer tours to those who are less adventurous. Our first-aid trained mountain bike guides are all local who know all the trails like back of their hands and are also expert for Mountain Bike mechanics. Our highest priorities in all our Nepal mountain biking-cycling trips are safety, quality, enjoyment Adventures and interesting. Soft ride on 4WD track, extreme downhill mountain bike ride in nepal or riding across the tough mountain terrain are the major features of our trips. We specialize in day-ride from Kathmandu valley rim to month-long single trial mountain biking exploration in Nepal ande tibet himalayas. Please check out our Mountain Bike Tours Package for more information on mountain biking trips in Nepal, Tibet and let us know how we can help you plan your Nepal Mountain biking and Cucling adventure.