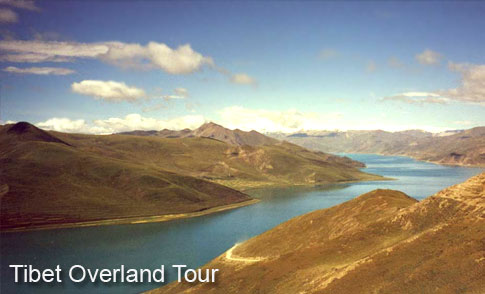 The Chinese Embassy based in Kathmandu has stopped issuing urgent visan until next notice. Now-a-days it takes at least 3-4 working days to obtain visa. Thus, all the travellers who wish to join this trip, MUST arrive in Kathmandu by Sundays evening in order to apply visa on Mondays. Visa collection will be on Fridays and on Saturdays you can board your flight to Lhasa to commence the tour.


7 Night 8 Days Drive in fly Out
Fixed Departure Ever Saturday
Day 01
Drive Kathmandu to Zhangmu (altitude - 2300m/ 7,544ft): Meeting at Nepal himalayan Glory Travels Company office at 6 AM. And 5 hour drive to Kodari (China / Nepal border) then onto Zhangmu. On the drive, you will see a variety of landscapes and mountains views as you pass through Nepal to Tibet. As well as the scenery, the Nepali and Tibetan market center of Khasa is of interest. Overnight stay at guesthouse or hotel.
Day 02
Zhangmu to Xegar (altitude - 4050m/ 13,284ft): Drive from Zhangmu to Nylam through the Nylam passes at 3800 meters (12,464ft) and continue via Lalungla pass (5050m/ 16,564ft) to Xegar. Highlights of this drive are the views of the Bhotekosi River deep in the valley, waterfalls and the ever-present spectacular mountain scenery. Here you will see the Jugal mountain range, Mt. Xixapangma (at 8013m/ 26,282ft, the highest peak in Tibet), Mt. Makalu (8463m/ 27,766ft), Mt. Everest (8848m/ 29,028ft), Mt. Lhotse (8516m/ 27,940ft) and Mt. Cho-Oyu (8201m/ 26,899ft). Stay overnight in guesthouse or hotel.
Day 03
Xegar to Xigatse (altitude - 3900m/ 12,792ft): This area is famous for the Tashilhunpo and Sakya monasteries.
Tashilhunpo monastery: The Tashilhunpo Monastery does justice to the term monastic city. It was founded in 1447 by Tsong Khapa's nephew and disciple, Gendundrub, who was the first Dalai Lama. Under the fourth Panchen Lama, it was substantially enlarged and became an important cultural and religious site. The main chapel contains a huge, 26 meter-high statute of the future Buddha. The monastery is grandly decorated with arts, ancient scriptures and scroll paintings.
Sakya monastery: The Sakya monastery originally consisted of two large complexes on either side of the Trum River. Both the north monastery, founded in the 11th century and Sakya south, founded in 1268 by Phagpa, have uniquely significant status with Tibetan pilgrims. The monastery offers you libraries of spiritual books as well as artwork and a chance to see the grand residence of the monks.
Day 04
Xigatse to Gyantse (altitude - 3950m/ 12,956ft): Gyantse, lying 264 km southwest of Lhasa on the northern bank of the Nyang Chu River, is of historical significance. In the 15th century it served as the capital of a small kingdom. Today, Gyantse retains a deeply Tibetan character. The principle structures consist of a castle on a ridge overlooking the town and a walled monastic complex. The monastery includes the massive temple of Palkhor Chode and the great multi-chapel Kumbum Chorten. These religious monuments, part of Gyantse's ancient monastic town, contain some of the most extraordinary works of art in Tibet. Overnight in a guesthouse or hotel.
Day 05
Gyantse to Lhasa (altitude - 3650m/ 11,972ft): Drive from Gyantse through Karo-la pass at 5010 meters (16,432ft) and onto the Khambala pass at 4794 meters (15,729ft). The former climbs two lofty mountains, the Nozing khang sa (7223m/ 23,691ft) and the Ralung (6236m/ 20,454ft). On this day, you will also see the wonderful Yamdrok Tso Lake (turquoise lake) and the Brahmaputra River as well as the ever-present views of the interesting and unusual landscape. Spend the night in a guesthouse or hotel in Lhasa.
DayS 06/07
Lhasa Tour: These days you will be engrossed with sightseeing and excursions of the Potala Palace, the Jokhang Temple, the near-by Barkhor market, Drepung Monastery, Sera Monastery and other fascinating places in Lhasa.
Day 08
96 km drive from Lhasa city to Gongar airport, then flight to Kathmandu: The flight will give you an eyeful of mountains; Mt Kanchenjunga (8586m/ 28,169ft), Mt. Everest (8848m/ 29.028ft), Mt. Makalu (8463m/ 27,766ft) and others.
Tibet Lhasa Tour - 5 days Fly in out

Fixed Departure: Every Saturday and Tuesday
There will be 3 flights in week usually from May to September i.e. Tuesday, Thursday and Saturday and possible to have a 2 days to weeks trip based on two way flight. The program below is just a model one and possible as per your interest, time and budget.
Tibet Lhasa Tour Itinerary - 5 days
Day 01: Depart from Katmandu by air to Lhasa. Arrival at Gonggar Airport. Transfer to a hotel in Lhasa (2hrs). Time at leisure. Overnight Lhasa.  
Day 02: A full day sightseeing. Visit the Potala Palace; The residence of Dalai Lama; the Jokhang Lhakhang and stroll around the market area. O/n Lhasa 
Day 03: Visit the Drepung Monastery, the largest monastery in Tibet. This 14th. Century monastery once housed more than 10,000 monks. Later on visit the Norbulingpa Park, the summer Palace of the Dalai Lama. 
Day 04: Drive to the Sera Monastery, the second largest in Tibet. This yellow sect monastery was very important, politically, during the days of Dalai Lama. And afternoon visit to Buddhist Nunnery. 

Day 05: Early morning drive to the airport for departure to Katmandu by flight.